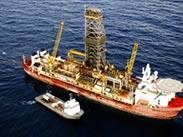 Pancontinental Oil & Gas NL says that the legal process of the previously announced Tullow Kudu Limited farmin to licence EL 0037 offshore Namibia has now been completed and both parties have accepted Closing of the farmin agreement. Tullow is a wholly owned subsidiary of Tullow Oil plc.
Ministerial approval and Joint Venture considerations regarding the farmin have now been satisfied and Tullow has now been assigned a 65% interest in EL 0037. Pancontinental will retain a free-carried 30% interest out of its previous 95% interest.
Pursuant to the Farmout Agreement Tullow has taken over as Operator from Pancontinental and will commence extensive programmes of 2D seismic and 3D seismic and, subject to identifying a drillable prospect, fully carry Pancontinental through an exploration well. Paragon Oil & Gas (Pty) Ltd's 5% free-carried interest will be included in the Tullow farmin expenditure.