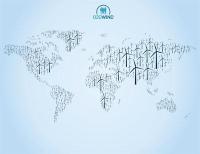 Wind farm owners representing 12 % of global turbine assets have founded a new peer-to-peer online platform called o2o Wind, dedicated to the exchange of knowledge and experience on operation and maintenance issues. The o2o Wind forum is the first initiative of the kind aimed at fostering wind farm O&M best practice through a collaborative approach.
Wind energy giants such as EDPR, Vattenfall, RWE, DONG Energy and Acciona Energia have already joined this exclusive network, along with numerous other wind turbine owners.
Mårten Nilsson, who is heading o2oWind, explained: "When it comes to trouble-shooting the O&M issues they encounter, wind farm owners are not competitors. On the contrary they are in the same boat, and that's why adopting a collaborative approach to problem-solving makes a lot of sense. Our members recognise that the most valuable information for turbine owners is the hands-on experience held by their peers."
Members share the common objective of optimising turbine yields, and many specialist discussions revolve around issues with main components such as rotor blades, gearboxes or substations. With o2o Wind members owning more than 60% of all offshore turbines in the world, the platform is also strong on offshore O&M. Although the topics treated on the forum are mainly technical, they can also be connected to major investment decisions.