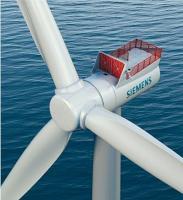 Rentel NV has announced it has signed a Turbine Supply Agreement (TSA) with Siemens for the supply and installation of 42 Siemens offshore wind turbines of the D7 platform and a 17-year Service and Maintenance Agreement (SMA).
After a competitive process that started at the end of 2013, Rentel has chosen for Siemens' offshore wind turbine of the D7 platform. Siemens' D7 type turbines will have a hub height of 106 metres LAT and a rotor diameter of 154 m, the wind turbine will be the largest ever in the Belgian North Sea and Rentel will be the first wind farm with "direct drive" (without gearbox) connecting its rotor directly to the generator.
After having awarded the contracts for the 40 kilometre export cable (to Swedish ABB AB) and the offshore substation (to STX France-Offshore Energy), the signing of the TSA and SMA contract with Siemens is another important step towards the realisation of the fourth complete offshore windfarm in the Belgian North Sea, located between the existing Northwind and C-power projects, ca. 35 km off the coast of Zeebrugge.
Nathalie Oosterlinck, CEO Rentel, says, "This contract is one of the final steps towards the realisation of the Rentel project this summer. Renewable energy is the future and we are very happy to be able to work together with an experienced and competent partner as Siemens in the realisation of our offshore wind power plant, while contributing to the renewable energy targets for Belgium and creating local and Belgian jobs along the way."
Michael Hannibal, CEO Offshore of Siemens Wind Power and Renewables Division explains, "We are pleased that Rentel NV has selected Siemens for our first project in Belgian North Sea. Our advanced model of our well proven Direct Drive wind turbine of the D7 platform will leverage the energy output of the Rentel offshore wind power plant and contribute to lowering the cost of electricity."
RENTEL aims to complete its project financing by the summer of 2016 in order to immediately start the construction works.