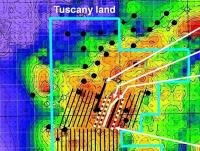 Tuscany Energy Ltd. has completed drilling a new oil pool discovery well on its Rutland prospect, West Central Saskatchewan.
The horizontal well, located at 91/13-34-40-25W3M, encountered over 500 metres of porous oil saturated Dina sand, and slotted liner has been run over the potential pay section. Production equipment will be installed at the well site this week and the well is anticipated to be on production by the end of next week. Tuscany has retained a 75% working interest in the well and lands.
The drilling rig is currently being moved to a development location at Evesham, Saskatchewan, the second well in Tuscany's current five horizontal well Dina development program.