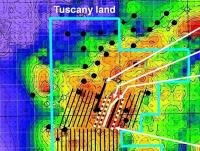 Tuscany Energy Ltd. says that a step out vertical well drilled for water disposal purposes at the Company's 100% working interest Macklin property encountered nine metres of Dina oil pay.
The 7-33-39-28W3 well was drilled to 1,011 metres as a potential Duperow water disposal well, and was located to also test a potential extension of the adjacent Dina oil field currently being developed by Tuscany. Approximately 9 metres of 33% porous sand was encountered in the Dina, with log characteristics identical to presently producing wells in the field.
The well will be completed as a disposal well within the next month, enabling Tuscany to significantly increase its water handling capacity which will increase its oil production and allow the Company to connect three currently shut-in wells.