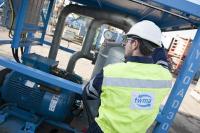 TWMA has been named a finalist in the prestigious SPE Offshore Achievement Awards – recognising outstanding success and innovation in the oil and gas sector.
The company, which is headquartered in Aberdeen and employs more than 400 employees worldwide, will compete against two others in the coveted environmentalist award category. This recognises an outstanding environmental technology that has been developed for and deployed in the offshore oil and gas or renewables industry.
TWMA's submission is centred on its TCC RotoMill® technology, and its safe and efficient operations in the handling and process of drill cuttings and associated materials at source. This 'at source' capability not only eliminates environmental risk, but also presents operational cost savings to the operator.
Ronnie Garrick, TWMA managing director comments, "We are delighted to be shortlisted as a finalist, having worked continuously to develop a successful track record in 'at source' treatment, years ahead of the industry and other potential competitors.