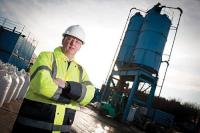 TWMA, provider of integrated drilling waste management and environmental services, has been awarded new contracts with a combined value of GBP 500,000 for EfficientC® skip and ship and onshore processing services.
One of the projects is for Zennor Pathway Limited (Zennor) and commenced in April 2016 with a duration of 90 days. This contract includes skip and ship services on the SEDCO 704 drilling rig in the North Sea.
Another project for LR Senergy on the Deep Sea Stavanger vessel, started in April 2016 with a duration of 70 days.
Director of business development, Rob O'Neill, says, "We're delighted to have been selected to support Zennor and LR Senergy on these projects. These awards complement our current North Sea operations and highlight our strengths and capabilities to provide integrated drilling waste solutions both on and offshore."
Both contracts will utilise TWMA's integrated waste management solutions for the provision of skip and ship services, which use the company's EfficientC® collection and distribution system to relocate drill cuttings and associated drilling wastes into bins. The bins are then transferred to TWMA's central onshore processing facility for treatment, reuse or disposal.
O'Neill adds, "The contract with Zennor is also testament to the hard work of our experienced, skilled team currently working on the SEDCO 704 rig, which has allowed us to continue our skip and ship service provision on this asset. We pride ourselves on our innovative technology and integrated solutions which allow us to provide the most effective drilling waste management services."