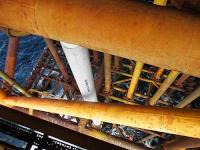 GMC Limited has announced that following their First Caisson Installation in the North Sea earlier this year, they have been awarded two more caisson fabrications contracts.
These new awards reflect the industry's recognition and confidence in GMC's Handling and Installation Methodology. Both contracts are from North Sea Operators who will utilise GMC's unique multi-tooth connector, specifically designed for replacement caisson applications.
GMC continues to expand its caisson replacement service in providing Operators with a fully managed Caisson Fabrication Service; including client specific coating requirements and often working within tight delivery schedules.
GMC will provide the full offshore installation package including all tools, hydraulic power packs, and skilled personnel for these two awards. Mobilisation is expected during Quarter 1 of 2017.