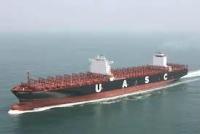 Jotun and United Arab Shipping Company (UASC) have reached agreement on the provision of advanced antifouling coatings for 11 newbuild container vessels. The contract is part of UASC's ambitious USD 2.3 billion newbuilding programme.
The shipping and maritime industries rely on antifouling hull coatings to limit the growth of organisms on hulls that can affect vessel performance and durability. These advanced coatings deliver hydrodynamic performance gains, fuel cost reductions and Green House Gas savings. This agreement marks the first time Jotun and UASC have worked together on marine antifouling hull coatings.
UASC, a leading global shipping company that has more than 12,000 customers globally, has committed itself to operate one of the world's youngest container fleets, with a strong focus on optimal efficiency and outstanding environmental standards.