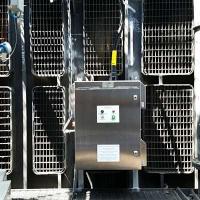 Emsys Maritime Ltd., a UK-based maritime technology company, has announced the acquisition of the intellectual property rights for the Emsys emissions monitoring technology from W R Systems, Ltd. (WR) for an undisclosed amount. Simon Brown, the former Commercial Maritime Program Director at WR, has joined Emsys Maritime as its Managing Director. Brown was an integral part of the original Emsys team, and played a key role in the development of the second generation Emsys-iS system.
WR originally developed Emsys in 2009 and gained Type Approval from ABS in September 2010. Since then, Emsys has been successfully deployed for many applications where air emissions measurement is required, including scrubber compliance monitoring, EPA air permit applications, and reporting of mass emissions inventories.
Following its introduction, Emsys rapidly became the market leading technology due to its unique combination of hardware and software that incorporates a calibration free, multi-channel laser and is capable of measuring compliance based applications, such as scrubbers, Particulate Matter (PM) and Mass Emissions. This capability is now in high demand due to its inclusion as a method for collecting data for the EU MRV Program.
George Vensko, Vice President at WR, explains the reasons for the divesture: "In 2008 WR set out on a path of diversification from traditional government and military-based business models, which resulted in the establishment of our commercial maritime program. Having successfully introduced Emsys to many of the world's major ship-owners and shipyards, the WR team decided that the next phase of the Emsys program expansion would be best undertaken in a strictly commercially focused organisation. Simon Brown has been an integral member of the Emsys team at WR since its inception, and is ideally placed to head up the newly formed Emsys Maritime team. We are proud to have developed market leading technology that will help ship-owners remain compliant and competitive in these challenging times, and look forward to watching the new organisation shape the market in the coming years."
Simon Brown comments, "After six fantastic years at WR, working in such a highly talented and motivated organisation, I am delighted to be part of the team which will take Emsys to the next phase of its development. We have a genuine world leading-technology with an unrivalled customer base. The world's premier cruise lines trust Emsys to keep them operating, and many of the major shipping operators choose Emsys because of its unique capabilities and competitive pricing structure. The new organisation will have a lean operating cost structure, whilst providing the highest levels of service and support expected by our customers. We will retain our global service capability through our own experienced technicians, along with strategically positioned partners who have worked with Emsys for a number of years. Play today at this best kizi games. The shipping industry faces many challenges regarding environmental compliance; placing Emsys as a part of the technological revolution, within the maritime community, keeps shipping companies in compliance whilst remaining competitive."