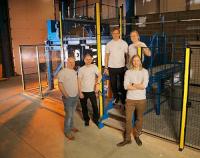 A multi-skilled team of north east-based subsea engineering experts representing the UK has advanced to the semi-finals in the USD 7 million Shell Ocean Discovery XPRIZE, a prestigious international competition which aims to create the next generation tools, technologies and techniques for rapid, unmanned ocean exploration and discovery.
Teams are challenged to design and build new ways to map the ocean floor at depths and a resolution never achieved before using advanced deep-sea technologies for autonomous, fast and high-resolution ocean exploration.
Based in the National Centre for Subsea and Offshore Engineering in Newcastle, Team Tao is the only UK team to make the semi-final and will compete against 21 teams from 13 countries vying for their share of the USD 7 million prize purse.
Team Tao brings together industry experts from Tyneside-based subsea engineering specialist Soil Machine Dynamics (SMD) and Newcastle University. They are developing an autonomous swarm system for rapid surface to deep ocean exploration.
SMD and CRRCTEC, both subsidiaries of Chinese parent company CRRC Ltd, are the main sponsors behind Team Tao. SMD is the number one independent designer and manufacturer of specialist subsea remotely operated vehicles (ROVs) and advanced submarine engineering machines worldwide. CRRCTEC is the world's largest provider of propulsion and power control systems.
Chris Wilkinson, Tao Team Advisor and Chief Technology Officer at SMD UK, explains, "SMD has a long history of creating subsea technology solutions, our equipment has played a major role in laying over 80% of the world's physical connections for the internet between continents. Team Tao being the only UK team in the second round of the Shell Ocean Discovery XPRIZE Challenge is a great achievement for them and something we are extremely proud to support."
"The competition is all about finding faster and cheaper ways to create maps for all our oceans' sea beds. The current estimated cost and time to do this is USD 3 billion by 2030. The challenge is significant and being part of the competition is very much about taking part in a journey of learning and innovating each step of the way. The technologies which will come out of the XPRIZE will give us the ability to finally discover underwater resources, geological features, new species and safer methods of mapping and exploring the world's oceans," adds Wilkinson.
Team Tao operates with a core team of four engineering experts from SMD, Newcastle University and CRRCTEC Ltd and is backed by a panel of seven industry and academic advisors. Their approach to the Shell Ocean Discovery XPRIZE involves international collaboration through partnerships with companies in China, the US and France, as well as research and innovation experts at Newcastle University through its Tyne Subsea Centre for subsea and offshore engineering. The first of its kind in the UK, the Tyne Subsea Centre brings together academia and industry in a world-class engineering research facility.
Professor Nick Wright, Pro-Vice-Chancellor for Research and Innovation at Newcastle University, says, "Historically, access to the deep ocean has been limited by the extraordinary physical challenges of exploring this extreme environment, high cost, limited technological advancements and lack of investment. More than two-thirds of our planet is covered by water yet we have only explored 5% of the ocean. This physically challenging environment prohibits today's mapping technologies from exploring the ocean."
"Team Tao represents industry and academia working together to solve a global problem. If we can increase awareness and understanding of our oceans there are significant and wide-ranging economic and environmental opportunities from eco-tourism to bio prospecting. A recent OECD report projects a value of USD 3 trillion by 2030, therefore improving our understanding of what lies beneath our oceans means we can also take better care of them too," explains Wright.
Dale Wakeham, Tao Team Leader and Industrial Design Engineer at SMD UK, adds, "It's fantastic to go through to the next round of the competition. Engineering challenges are normally solved with overly complex solutions. At Team Tao we take a minimalist approach which is a departure from the commercial norm of high value complex AUV assets. Ultimately our mission is to help kick-start the new 'ocean economy' by redirecting the market to use multiple, simple, low value assets which come together to create a complex industry-leading ecosystem survey, offering data that is attainable and relatable to inspire positive change. For us it's all about discovering, monitoring and learning how to best protect our oceans through the development of rapid sensing big data technology."