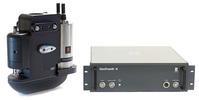 Unique Group (UG), international providers of integrated subsea and offshore solutions, has executed a dealer agreement with Norwegian-based Kongsberg Maritime (KM) AS. As part of the agreement, Unique Group's Cape Town office will offer KM's underwater mapping and navigation solutions to customers in Nigeria and Kenya.
The Kongsberg range of underwater mapping products includes the EM 712RD®, EM 2040C® and 2040P®, EA440/EA640, the Geoacoustics range among others. The underwater navigation products include the HiPAP® range of underwater positioning systems and the cNODE® underwater positioning transponders.
Konrad Mech, Director Subsea Channel Management at Kongsberg Maritime AS comments, "We're pleased to appoint Unique Group's South Africa office as a market representative of our underwater mapping and navigation solutions in Nigeria and Kenya. The move is strategic for Kongsberg in expanding its international reach, especially in the African sub-continent. We have had an association with Unique Group for the Middle East region that spans over two decades. Our synergic interest to establish market presence in Africa will help strengthen the partnership over the years ahead. We value their seamless sales support and service structure and are confident that their team can provide first hand assistance to customers using our product lines."
"The new partnership will allow Unique Group's Survey Equipment division to add a wide range of underwater mapping and navigation products to its extensive line of superior quality equipment," says Sharad Kumar, Director of Business Development at Unique Group.
"The move is strategic for Unique Group's plans for the African sub-continent that includes extending the capabilities to the East through Kenya and West through Nigeria, apart from the existing services offered from our base in South Africa. This is in line with the global perspective on African development. UG also has a DP training center in Nigeria with KM that is approved by the Nautical Institute. We're hopeful that our successful business relationship developed over these years will further strengthen with this partnership for a new region and we look forward to extending this to a few more countries in the region over the next couple of years", he further adds.
Headquartered in Norway, Kongsberg Maritime AS has been delivering systems for dynamic positioning and navigation, marine automation, handling systems, safety management, cargo handling, subsea survey and construction, among many others.