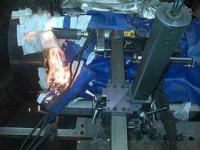 Unique Group, the integrated subsea and offshore solution provider, has announced that its On-Site Engineering division, through its Wellube brand, has partnered with KSB Group to offer a new service to its customers in the Middle East and Africa region. On-Site Spark Erosion is the latest addition to the division's wide portfolio of services that include hot tapping and line stopping, on-site machining, and safety valve testing among many others.
The KSB Group, headquartered in Germany, is a supplier of pumps, valves and services.
Spark erosion, also known as metal disintegration or electro discharge machining (EDM), is a technique that's primarily used for tap, stud, bolt and drill removal or seized fasteners. The cutting action of a metal disintegrator is accomplished by creating a series of intermittent electric arcs that break down the hardest metals into minute particles in a safe and controlled manner.
An electrode, held in the head of the disintegrator, vibrates as it cuts while a coolant is pumped through the electrode to wash away the powdered metal. The technique chiefly employs electrical energy to remove metal from the work piece without creating any contact with it. The technique can also be used for marine and marine engine repairs.
As there are no cutting forces involved in a spark erosion process, delicate operations can be performed on thin work pieces. The technique can produce shapes unobtainable by a conventional machining process and can also be used to provide a texture on the inside of mould tools for plastic products.
Sahil Gandhi, Director at Unique Group's On-Site Engineering division comments, "Our Wellube brand is widely recognised as a leader in the provision of on-site machining services. As a world-renowned brand, we're continuously on the lookout to grow our reach by offering new services to customers the world over. The decision to partner with KSB was imminent considering their in-depth experience in the spark erosion industry."
"Their spark erosion machines are powerful and highly reliable, thereby ensuring maximum material removal in minimum time, thus keeping the customer on schedule."
Paul Eccles, Spark Erosion Sales Manager at KSB asserts, "We're pleased with our new association with Unique Group. We at KSB have always aimed at giving our customers the best possible service to suit their business needs backed by a 24hr support plan and the same ideology resonates with the Unique Group team. Their strong customer base and sound knowledge of the market is instrumental in establishing the best-in-class metal disintegration service to customers in the region."