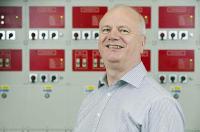 People Factor Consultants Ltd (PFC) has celebrated the second operational anniversary of its exclusive, in-house designed high fidelity power distribution simulator.
Unique in Europe (the only other is based in Houston and was also designed by and commissioned to PFC), the simulator plays a fundamental role in the Aberdeen-based training company's technical course portfolio, which focuses upon the accredited training and assessment that the oil and gas industry requires of its electrical discipline personnel.
Using his experience as an offshore electrical engineer and, for the past 20 years, onshore electrical trainer, the simulator was designed by PFC technical director, Brian Crichton. In its portable form, the simulator has been used across the globe since 2008, and the permanent simulator was installed when its purpose-built, city-centre home opened in early 2013.