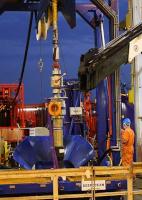 Subsea distribution systems specialist, UNITECH, has deployed its 3,000th UH-500 Series connector on the Total E&P Congo operated MOHO Nord subsea project, located around 75 kilometres off the coast of Pointe Noire in the Republic of Congo.
First introduced in 1996, the UH-500 was developed as a leaner alternative to clamp connectors, allowing quicker connections offshore. Comprising a male receptacle and female stab connector, it is used for a range of subsea applications including gas lift, acid injection, scale squeeze, methanol / MEG injection and electrical connections.
On the MOHO Nord project, over 200 UH-500 connectors: UH-550 (2-inch) and UH-575 (3-inch) for chemical injection and gas lift respectively are used on umbilical flow lines, risers, and for permanent installation on manifolds and XTs. The pressure containing body materials are forged to shape and tested to conform with the Total 25% Cr Duplex Forging requirements. The UNITECH UH-500 male receptacles were installed on manifolds and XTs, and female stab connectors attached to gas lift/chemical injection jumpers.
"The UH-500 Series was the first of our game changing technologies that enabled quicker and more resilient subsea connections," says Bernt Hellesoe, Chairman, UNITECH Offshore. "The adaptability of the design lends itself to a wide range of critical subsea connection applications, a notable example being the OSPRAG (Oil Spill Prevention & Response Advisory Group) Rescue Cap kill line using a 15 K psi, UH-575 connector."