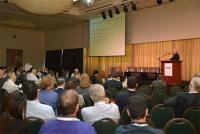 Delegates from all corners of the world attended Israel's 1st international oil and gas conference and exhibition at the Dead Sea last week, learning about the country's future oil and gas opportunities offshore and onshore as well as the challenges going forward.
The 200 plus invited energy executives of Universal Oil & Gas Dead Sea 2014 (UOG 2014), who came from global energy hubs such as Denmark, Texas, the Netherlands, Russia, South America, Canada, Nigeria and France, were treated to an array of expert speakers who called for the world to take note and invest in Israel's emerging oil and gas industry.
Dr. Harold J. Vinegar, world-renowned Chief Scientist of Genie Energy and Former Chief Scientist of Shell, who has been at the forefront of realising the future potential of the unconventional market and has over 50 patents to his name, urged the international audience to seize the vast potential Israel has to become a major force in the energy market. At UOG 2014, he also introduced new studies on his oil shale technology which only requires 1 square metre to yield high quality light crude oil and explained how environmentally safe the process is.