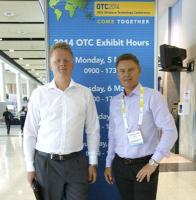 Uptime International has entered into contracts with MAC Offshore Dubai and Fujian Mawei Shipyard China for delivery of three active motion compensated gangways.
The first of these three gangways will be mounted early 2015 on their third Compact Semi Sub (CSS) maintenance vessel, which was designed by STX's Vancouver office.
The next two will be mounted on two new Motel Support Vessels to be built in 2015/2016.
In order to ensure the POB access, the vessels have been upgraded with motion compensated gangways which, during inclement weather, will significantly increase the ability to connect to offshore installations.
The combination of MAC, the CSS stable platform, and the Uptime motion compensated gangway, will create a very safe and secure environment for the transfer offshore personnel, reduce downtime and increase productivity.