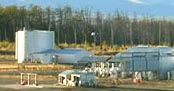 Urals Energy is pleased to announce the following update on its operations at Petrosakh and Articneft assets as well as the Board's preliminary findings on the Alleged Debt Repayment Agreement.
Petrosakh
As outlined in the Circular posted to shareholders on 14 October 2013, the Company is pleased to report that drilling at Well #53 in the Petrosakh field has now been completed and it is currently undergoing preparation for production. Flow rates for Well #53 will be released once they have been established.
Articneft
The planned annual tanker shipment for export from Kolguyev Island is now underway. Weather permitting loading should be concluded by 10 November 2013 at which time the Company will announce the volume and value of the shipment. The shipment of this tanker ties in with the payment date for the remaining interest payment outstanding to Petraco Oil Company Limited which totals approximately US$3.0 million together with US$5.7 million repayable under the short term loan received from Petraco earlier this year. This remaining indebtedness is anticipated to be settled before the end of 2013 at which point the Company will be entirely debt free.