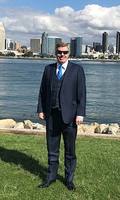 Scottish-American software and energy company Ziyen Inc., which has operations in Aberdeen and Inverness, has announced it has secured a further two major oil contracts in the Illinois Basin, USA.
The acquisition of the Potts oil lease represents the next step in the business' strategy to acquire leases, return wells to production, and pursue other promising oil leases through its dedicated Ziyen Energy division.
The new lease is comprised of four oil-producing wells, one injection well and all associated equipment. After full geological and seismic surveys have been completed, Ziyen's technical team will proceed with securing relevant permits for the land with plans to commence full oil production by summer 2018.
The third oil acquisition is the "Big Bill" lease, which lies on over 140 acres of land in Gibson County, Indiana.
Alastair Caithness, CEO of Ziyen, comments: "We're excited to secure our second and third contracts, and it's a great start to round two of funding. The next phase for the company is to ensure that we win more contracts in the Illinois Basin over the winter, with plans to start full production across all of our oil leases in 2018."
"The 'Big Bill' lease has the potential to deliver oil equivalent, or more, to our first lease. It could potentially contain more than 500,000 barrels of crude oil reserves contributing to the company's goal of acquiring US$500million in oil reserves by the end of 2018. Our petroleum reservoir engineers will be providing a detailed report in the coming weeks on the exact reserves," Caithness adds.
The business, which uses the latest in sustainable technology to maximise extraction, is on track for stock market entry in 2018 – pending approval of its initial public offering (IPO).
Based on the company's initial acquisition of the Ross oil lease in June 2017, with proven and probable reserves estimated to be in excess of $30million across six oil-producing wells, Ziyen has been re-qualified by the SEC (US Securities and Exchange Commission), via Regulation A+, for a second round of funding; currently open with a pre-IPO share price of USD 1.50 per share.
The firm, which opened its Granite City base at the Aberdeen Innovation Park, Balgownie Drive in October, was founded by Inverness-born Alastair Caithness in 2016 following his move from north-east Scotland to San Diego, California.
Alastair Caithness continues, "We are creating a portfolio of oil assets and continually negotiating the acquisition of new oil leases on behalf of our shareholders. Our current leases are currently under due diligence by our land team in Indiana and we plan to acquire more leases in 2018 to increase both the breadth and depth of the company's assets."