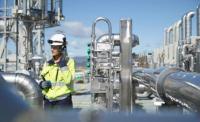 ION Engineering (ION) has signed a contract to test its solvent technology at Technology Centre Mongstad (TCM), the world's largest and most advanced facility for testing and improving CO2 capture technologies.
ION is currently developing its solvent system to scale up to the commercial level. After successfully testing at the National Carbon Capture Center (NCCC) in the US, ION moves to TCM as the next step toward commercialisation.
ION's test program at NCCC was funded under a multi-year Cooperative Funding Agreement with the US Department of Energy's National Energy Technology Laboratory (NETL). In June of this year, ION was granted a USD 7.5 million dollar continuation of that program to fund the TCM test campaign.
With these advancements in its technology, ION is striving to define the future of carbon capture as a cost-effective solution to reducing greenhouse gas emissions. Carbon capture, utilisation and storage technology is critical to the de-carbonisation of power and industrial applications, and essential for addressing climate change.
Roy Vardheim, Managing Director of TCM, says, "TCM continues to play a crucial role in the development of carbon capture technologies, helping a number of companies to test and reduce the costs and risks of scaling up carbon capture. We are very satisfied that ION Engineering is now heading for Mongstad to further prove their technology in an industrial environment at commercial scale."
Buz Brown, CEO and Chairman of ION Engineering says, "TCM provides ION with tremendous opportunity for advancement of our technology. At the 12 MWe scale, TCM is a vital step in the scale-up process as ION continues to make positive strides towards world-wide deployment of our CO2 capture technology at commercial scale facilities. We look forward to working with the world-class team at TCM."
The purpose of the test campaign is to demonstrate the performance of ION's solvent by investigating amongst others energy consumption, CO2 loading, corrosivity, degradation, water balance management and emissions.
The test window will start in October this year and last until April 2017 and will constitute a 3,5 months effective test period.