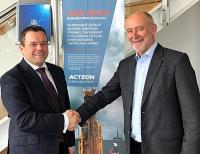 UTEC, a global survey company in subsea services group Acteon, has welcomed a new Chief Executive Officer as its original founder retires from the business.
Stuart Cameron has taken on the role of Chief Executive Officer at UTEC. Stuart has spent more than 20 years in the international subsea construction sector having previously held a variety of operational and management roles for Subsea 7 in the UK, USA and Asia as well as Chief Operating Officer for Ceona.
Martin O'Carroll, who has more than 25 years industry experience, co-founded UTEC in 2005. Since then, UTEC has grown to become one of the largest global surveying businesses, with bases across the UK, USA, Mexico, Canada, Ghana, Nigeria, Australia, Brazil, Canada, Indonesia, Norway, Singapore, and the Middle East.
O'Carroll welcomed Cameron to the role. He says, "I am pleased to hand over the reins to Stuart. I know the new leadership is poised to do great things in what is still a challenging trading environment. My time with UTEC has been a rewarding experience and I know I am leaving the business, clients and employees around the world in a strong position."
Cameron adds "Martin's hard work and passion has led to what UTEC is today. There is no doubt that his focus on creating a truly global presence, building an enviable track record and strong focus on quality has ensured he leaves UTEC in a very strong position. Together with my global leadership team I am looking forward to continuing to build on this."
Cameron will be based in the newly formed UTEC headquarters within the Acteon building in Aberdeen, alongside other branded services such as Intermoor, Aquatic and 2H. He adds, "Our new leadership team has a fantastic opportunity to leverage off its global experience and diversity of services offered by the Acteon group. I'm really excited at what we can achieve together with the other Acteon group of companies."