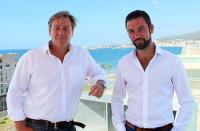 A new UK-based company which aims to address the immediate and long-term skills needs of the global marine energy sector, has been launched. 
Headquartered in Cornwall, south-west England, UTM Consultants Ltd will leverage its extensive network together with its industry experience to source and supply the manpower solutions required to deliver complex ROV, survey, inspection, repair and maintenance projects to the oil and gas, renewable, hydrographic, marine, power and telecommunications sectors.
Founded by managing director, Richard Tozer and operations director, Alex Meeks, the privately funded company will specialise in the acquisition and deployment of highly qualified and accomplished professionals from a range of technical and engineering disciplines.
Prior to setting up UTM, Tozer ran leading marine recruitment services company, GOSS Consultants before selling the business in 2013. Alex has extensive experience in sourcing personnel for the offshore sector, having previously led the survey division of an international survey and ROV recruitment firm.
Tozer comments, "With over 30 years combined experience in matching industry professionals with organisations seeking a specific skills set, we understand the challenges faced by companies and contractors alike.The future of the industry relies on having the best people in the right jobs. Too many of today's supply agencies are concentrating on the number of hires as opposed to the quality. Often recruiters fail to meet an employer's exact role requirements as they don't have the tools or the knowledge to match key competencies with high level labour demands."
"By concentrating exclusively on very niche industry disciplines, we are in a strong position to source and secure the right talent to fill the most critical roles firms need to sustain growth within the marine and renewable industries," adds Tozer.
The company, has also established an onshore support team to provide help and guidance to contractors throughout their career.
Alex Meeks says, "We aim to support the global marine industry by ensuring companies are sufficiently equipped with the technical and engineering expertise to effectively manage and deliver challenging projects offshore. With the increasing pressure on companies to reduce costs and increase efficiencies, we feel the timing is perfect to launch UTM."
"Our business strategy focuses on providing a dedicated and cost-effective service which will address personnel requirements by managing the supply and demand for the key skills which will help drive the industry forward. This, combined with our experience and global reach is what will differentiate UTM from what is currently being offered in the marketplace," concludes Meeks.