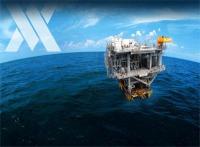 VAALCO Energy, Inc. announced a re-sequencing update to its drilling and workover program offshore Gabon in the Etame Marin block.
As previously reported in a press release dated September 16, 2015 announcing the strong results from the initial North Tchibala field development well, the Company planned to mobilize the Transocean Constellation II jackup rig to the Avouma/South Tchibala field to conduct workover operations to replace electrical submersible pumps (ESP's) on three existing development wells, two of which are currently off production.
The North Tchibala 1-H well, the first well drilled by VAALCO to the Dentale formation, continues to produce at a rate of approximately 3,000 gross barrels of oil per day (approximately 750 barrels per day net revenue interest to VAALCO) without artificial lift. Subsequent to completion of the well, adverse sea state conditions at the location of the SEENT Platform prevented VAALCO from moving the rig to the Avouma/South Tchibala Platform.