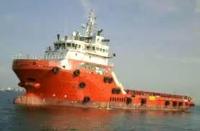 Singapore's Vallianz Holdings Limited (Vallianz and together with its subsidiaries, the Group), a fast growing provider of offshore support vessels and integrated marine solutions to the oil and gas industry, has signed new contracts valued up to $458 million that has lengthened the charter duration for 19 of its offshore support vessels (OSV) currently deployed to an existing customer in the Middle East, which is one of the world's largest national oil companies (the NOC).
The Group presently has 15 Anchor Handling Tug Supply (AHTS) vessels and 4 Platform Supply Vessels (PSV) supporting the offshore oil and gas operations of the NOC. With the new time charter contracts, which modify certain terms in Vallianz's previous contracts with the NOC, these vessels will continue to be deployed to the customer until June 2018, with an option to extend for two more years until June 2020.
CEO of Vallianz, Ling Yong Wah said, "Being cognizant of the current market situation in the offshore oil and gas industry, we took a proactive approach and engaged our NOC customer to review the Group's existing vessel charters. In addition to upholding the quality of our services and the trust our customers have in us, it is paramount that the Group exercises flexibility to align our services to prevailing market conditions. We believe the new contracts show that our customer values our approach and remains confident of our ability to deliver quality services.