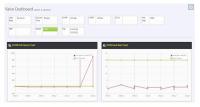 IRM Systems (IRMS), the independent authority in emergency pipeline repair, announced the introduction of the Valve Integrity Management Solution (VIMS®), an innovative method of maintaining critical pipeline valves to the highest performance standards and criteria that can save up to 70% in lost production, excluding the substantial cost of associated labour, equipment and specialists.
VIMS was developed in direct response to the distinct lack of analysed data associated with valve integrity and maintenance in the industry. "Over time, we have seen a number of issues arise regarding valves, which could have been prevented had a methodical review of data about the valves installed on a pipeline system been carried out," said David Obatolu, General Manager of IRMS UKWA. "The new VIMS, which combines trademarked VIMS software with a specially designed review process, provides pipeline operators with a novel, yet surprisingly simple way of looking after every aspect of their pipeline valves."
Following a comprehensive audit of the number - and condition - of all valves on a designated pipeline, IRMS logs and analyses the data, integrating it via the VIMS into the operator's existing systems and processes. Data on individual valves and assets can then be immediately accessed, in order to review a full range of benchmarked factors in, for example, design, construction, maintenance and reliability. By using this standardised approach to valve integrity maintenance - which relies upon solid risk and reliability engineering – operators can make informed decisions about inspection plans and repairs, saving time and money.
As a result of outreach by IRMS UKWA in the region, operators in West Africa are actively adopting the VIMS. Even those that previously managed valves with well-established, traditional processes have recognise that these systems were lacking, especially when it came to providing reliable valve integrity management.
The cost-savings implications of using VIMS to maintain valve integrity are far-reaching. "Regardless of pipeline location, the VIMS process brings about operational excellence," said Obatolu. "This means that operators can avoid costly repair operations and downtime, which can escalate into millions in lost production."
In addition to West Africa, IRMS has received expressions of interest in the VIMS from operators of pipeline networks in United Kingdom, The Netherlands, and the Middle East, among others.