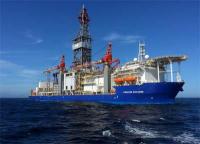 Vantage Drilling Company says that the ultra-deepwater drillship, Tungsten Explorer, commenced initial operations in Southeast Asia on the morning of September 20, 2013.
Vantage also announced that the Sapphire Driller has received a Letter of Intent for an eighteen month contract plus options to work in West Africa. This contract will replace the previously announced two-year Letter of Award, as Vantage was unable to satisfactorily resolve significant contract issues with the previous customer. The estimated revenue over the initial eighteen month term of the contract is approximately $100.4 million, including mobilization.
Vantage provided an update for Sigma Drilling Ltd. (Sigma) which is contracted to build the ultra-deepwater drillship, Palladium Explorer, at the STX Offshore & Shipbuilding Co. Ltd. (STX)'s yard in South Korea. As has been widely reported, STX has commenced, with the support of the Korean Development Bank and its other banks, to significantly restructure STX's operations and finances. In connection with these restructuring efforts, STX has currently suspended construction efforts for the Palladium Explorer.