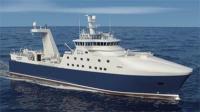 Vard Holdings Limited (VARD) has secured a new contract for the design and construction of one offshore vessel for an undisclosed international customer.
The new offshore vessel is designed by Vard Design in Ålesund, Norway. With the hull to be constructed at Vard Braila in Romania, outfitting and delivery is scheduled from Vard Langsten in Norway in 2017.
As at 30 September 2015, the Group had 31 vessels in the order book, 18 of which will be of VARD's own design.