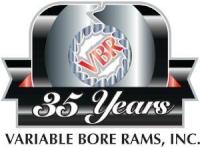 Variable Bore Rams, Inc. (VBR) is celebrating its 35th year of providing exceptional support and service to blowout preventer operators.
The company, founded in Lafayette, Louisiana, has grown from offering a single variable bore ram model to hosting one of the largest inventories of OEM blowout preventer rams and elastomers in the world.
VBR's 26,654 square foot state-of-the-art warehouse facility, recently constructed in Broussard, Louisiana, houses more than 1,600 different types and sizes of blowout preventer ram type products. All VBR equipment is maintained to meet OEM, API, NTL and BOERME requirements and is stored in temperature and humidity controlled facilities to ensure product reliability.
"What started, back in 1980, as a small company focused on accommodating rigs with specific blowout preventer requirements has expanded to include both domestic and international energy markets," said Hines M. "Chip" Marshall Jr., president of Variable Bore Rams, Inc. "For the past 35 years our team at VBR has been proud to offer quality services and equipment at a moment's notice in an effort to keep our customers operating in a safe and productive environment, and I look forward to continuing to provide customers with this same service for years to come."