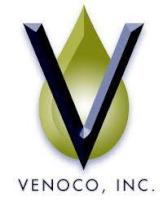 Venoco, Inc. has completed $250,000,000 of new financings consisting of a private issuance of new First Lien Senior Secured Notes with an aggregate principal amount of $175,000,000 (the "First Lien Notes") and an interest rate of 12.00% due February, 2019 and $75,000,000 of cash secured Senior Term Loans.
A portion of the proceeds were applied towards the full repayment of the borrowings on the existing Fifth Restated Revolving Credit Facility (Credit Facility) due March, 2016. The Credit Facility was subsequently terminated.
Simultaneously, $194,000,000 in principal and accrued interest of the existing 8.875% Senior Notes due 2019 (Existing Notes) held by a group of existing investors were exchanged for Second Lien Senior Secured Notes (Second Lien Notes) at 77.5%. The Second Lien Notes will initially pay interest, at Venoco's option, in the form of Payment-In-Kind at 12.00% or cash interest at 8.875% for up to 24 months and will pay cash interest at 8.875% thereafter.