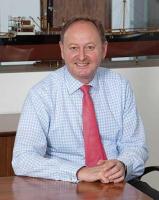 V.Group has acquired Bibby Ship Management, part of the Bibby Line Group, which has an established track record for providing high quality, safe and reliable ship management and support services to blue-chip clients.
The combination of Bibby Ship Management with V.Group strengthens V.Group's overall position as market leader in ship management and maritime services by also extending its market leading position in the offshore market.
As a result, this acquisition gives the combined customer base access to the most extensive management capabilities across all sectors, at a crucial time when ship owners and operators are facing unprecedented challenges and are exploring strategic options for the management of their fleets.
"With the extensive expertise of the Bibby Ship Management team, our ability to offer comprehensive management and support services to offshore oil and gas assets and specialised project vessels is second to none. We believe our combined capabilities offer a compelling outsourcing proposition to our clients, helping optimise operating and budgetary performance for ship owners. We deliver a higher performance assurance, through integrating a wider range of services in support of the management offering," said Clive Richardson, V.Group chief executive officer.
"Bibby Line Group has built its reputation as a high quality, safe and reliable ship owner and manager over 200 years' of trading in the most competitive and dynamic markets in the world. We set up our ship management business in 1982 and we are now involved in managing vessels for many well-known multinational companies. By combining Bibby Ship Management's operations, people and expertise with V.Group's, we believe that our clients, as well as our own vessels, will continue to receive a high quality, personal service for years to come," commented Sir Michael J Bibby, managing director, Bibby Line Group.