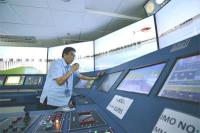 V.Group, together with its third party ship management arm, V.Ships, are celebrating the inauguration of a major new office and training centre in Manila, Philippines.
The recently opened centre is located in the burgeoning Aseana City district which is set to become the next business capital of the Philippines. Occupying 6,700sq meters over five floors of the impressive new Aseana II building, the state of the art facility is the single biggest investment by V.Group in its history and is intended to become a centre of excellence for the Group.
Accommodating a growing workforce of 270 full time management and admin employees, the wide ranging facilities include a crew manning suite which saw the arrival of 1000 seafarers on its opening day to register with the Group. In addition, an impressive array of training facilities are provided, including a full mission bridge and engine room simulator, a culinary and hospitality instruction centre, which can cater for almost 400 visitors per day, two housekeeping areas which fully replicate the luxury accommodation of a cruise liner, an officers' mess and a full suite of classrooms and auditoriums.