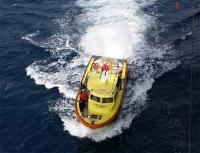 3D Oil Ltd. says that the Sea Lion-1 exploration well in the Gippsland Basin, offshore Australia is now expected to spud approximately mid-September, subject to weather conditions causing delays to the handover of the rig from the current operator.
The VIC/P57 joint venture, under the operatorship of Carnarvon Hibiscus Pty Ltd. (CHPL), has contracted the jackup West Telesto (400' ILC) to drill Sea Lion-1. The joint venture has completed its operational and regulatory preparations and stands ready to drill Sea Lion-1 and stands ready to drill Sea Lion-1 upon handover of the West Telesto.
Note that the delay in spudding Sea Lion-1 is not at the material expense of the VIC/P57 joint venture and also that it is not due to problems with the performance of the rig or other operational factors. The delay is entirely due to adverse Bass Strait weather and sea conditions preventing the timely release of the West Telesto from its current assignment with another operator.