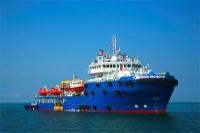 VIKING Life-Saving Equipment and Topaz Energy and Marine, an offshore support vessel company, jointly announced the signing of a USD multi-million, 10-year combined fixed price and exchange service agreement for liferafts.
Under the terms of the contract, VIKING will upgrade all of Topaz's current liferafts and manage the ongoing servicing and certification of Topaz's liferaft fleet.
"This agreement significantly enhances our ability to operate safely, which is a top priority for Topaz and for our clients" says Topaz CEO, René Kofod-Olsen.