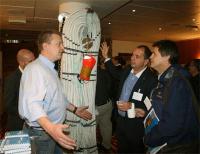 Viking Moorings has launched its new 'fibre in bag' solution - a complete fibre rope storage system which will enable the fibre rope and the buoy in a pre-set mooring application to be stored safely on the seabed until mobilisation (the fibre rope will be stored in a bag).
The solution was developed in partnership with Det Norske and was announced at the Anchor Handling Seminar in Stavanger today. The Anchor Handling Seminar is an annual event for the mooring industry with more than 250 participants and stretching over 2 full days.
Benefits to operators of the new 'fibre in bag' solution will include a simplification of pre-laid mooring operations with the ability to store the fibre rope and buoy underwater, efficient and flexible onboard handling and storage when required, no requirements for specialised tooling and external cranes, and the protection of seafloor infrastructure and flora, with no grappling. In addition, there will be no need to protect buoys at the surface.
Wolfgang Wandl, CEO of Viking Moorings, continued, "Improving, simplifying and speeding up mooring operations are crucial to today's operator as they look to reduce costs and increase efficiencies."
"That's what we have achieved with our new 'fibre in bag' solution today which will enable operators to store fibre inserts safely on the floor without threats of damage and, with our retrievable subsea buoy, reduce the need for grappling. The result will be a safer, more efficient and simplified mooring operation."
He concludes, "We at Viking can certainly envisage a future where the mooring infrastructure around target fields remains ever present with operators linking their offshore installations into the pre-set mooring whenever required. With our focus on innovation and new solutions, such as these, we will ensure that this is a seamless and highly effective process."