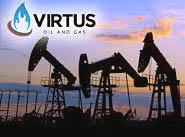 Virtus Oil and Gas Corporation announce that the seismic reprocessing and interpretation efforts of its recently purchased 47 miles of 2D seismic data in the Parowan Project now reaches completion.
Key Findings
Virtus recently purchased the 2D data to complement its existing seismic library in order to better understand the geology and delineate its acreage footprint within the Parowan project. Seismic data will be the dominant data source used to choose the location of Virtus' exploratory well.
Dr. Robert (Bob) Benson, Exploration Director at Virtus Oil and Gas summarized the key findings from his reprocessing and interpretation efforts below:
◾Key Finding #1: The improved interpretation confirmed the presence of a complex structural closure associated with multiple thrust faults caused by compressional tectonic events. Dr. Benson believes the structure has the potential to trap Oil and Natural Gas, which is one of many necessary components for a reservoir to produce Oil and Gas.