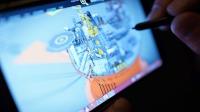 Intergraph® Process, Power & Marine Norway and Visco have announced that Visco's visualisation solution (VCOG) is now directly integrated into Intergraph's SmartPlant® Foundation.
Together the two companies have created solid and robust solution that fully utilises the power of 3D models integrated with engineering information found in Intergraph's information management solution (SmartPlant Enterprise for Owner Operators, SPO). The joint solution will greatly benefit both owner operators and EPC's by allowing them easy access and better understanding of the engineering information that is the basis of their everyday work.
"Being recognised by Intergraph proves VCOGs capabilities and I feel confident that VCOG will empower people with an intuitive visual front-end to SmartPlant's valuable data" says Øystein Stray, chief operating officer and president at VISCO and VCOG.
Jens Olav Nordanger, Intergraph Process, Power & Marine Norway's head of sales, says, "Visco offers us a solid and robust solution to fully utilise the power of the 3D models created in our SmartPlant and Intergraph Smart™ solutions, integrating the models with accurate engineering information available in Intergraph's information management solutions. The collaboration between Visco and Intergraph will help our customers to improve the accessibility of their engineering information, while enabling both owner operators and EPC companies better understand and share their engineering data."