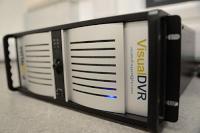 Forum Energy Technologies, Inc. has announced a new contract that will see its pipeline and cable survey software installed on the world's most advanced cable laying support vessel, the NKT Victoria.
Two VisualSoft Four Channel High Definition Digital Video Systems (VisualDVR MCHD) will be supplied to iSURVEY Group, a provider of survey and positioning services to the global oil and gas and telecommunications sectors. The first vessel installation for the newest system in the VisualSoft range, is to be utilised on the NKT Victoria in the Moray Firth.
The NKT Victoria (DNV-GL Class) is a 140 m x 30 m DP3 top-of-the-range diesel electric vessel with 1600 m2 of deck space and two large offshore cranes. The high capacity cable lay system features a battery energy storage system to assist the cable loading in the event of failure of the shore power used during loading.
The Caithness Moray High Voltage Direct Current (HVDC) project in Northern Scotland is the largest investment in north Scotland's electricity network since the hydro development era of the 1950s. It will see the electricity grid on either side of the Moray Firth connected via a new submarine cable capable of carrying up to 1,200 megawatts of electricity, equivalent to the electricity needs of about 2,000,000 Scottish people. This major project aims to help Scotland transition towards a low carbon economy.
Andy McAra, VisualSoft's Product Director says, "We are very excited to release our new multi-channel high definition video solution to the market and it is great to be supplying the first of these systems to iSURVEY who we have had the pleasure of working closely with for many years."
"It also makes us very proud to see our systems being installed on this new state of the art cable lay ship not least because her first contract will be here in Scotland."
Kenneth Leverskjær, iSURVEY's Project Manager says, "We have great expectations to the VisualSoft system, and are looking forward to further develop the strategic relationship with FORUM Energy Technologies as provider."
Paul Mccormack is the Offshore Construction Shift Supervisor on the new NKT Victoria vessel. He says, "The NKT Victoria was designed and outfitted to be the very best. The latest VisualSoft HD digital video system was therefore an obvious choice to add as part of this state of the art cable lay vessel".
The VisualSoft suite is a modular range of software applications designed specifically for use during subsea structure and pipeline inspections.
The VisualDVR MCHD system will provide the project team with up to four channels of high definition video recording complete with built in dynamic overlay and the ability to distribute live video and overlay channels without the need for additional hardware. Video files are recorded using H.264 encoding for optimum storage efficiency and playback compatibility.
In recognition of the widespread use of H.264 as a recording format within the subsea industry, VisualSoft has released an unlimited codec-free player for use within their editing suite, VisualEdit, and the viewer, VisualReview. The player has improved window handling to allow optimum use of high definition video playback.
Also within the scope of supply is VisualArchive, an application which is used to collect logged files from the video systems and copies them to pre-configured file locations on a variety of storage and backup devices such as large network storage drives which also form part of this scope.
VisualEdit Eventing will be used to provide an offline event and anomaly logging, editing and reporting capability for the project.