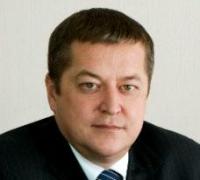 On November 20, 2015 the Severneftegazprom Board of Directors made a decision to appoint Vladimir Dmitruk as the company's Director General starting from November 23, 2015.
Vladimir Dmitruk was born on April 15, 1970 in Kaliningrad. He graduated from Gubkin Russian State University of Oil and Gas and Tyumen State Oil and Gas University. He has a PhD degree in Engineering.
Vladimir Dmitruk took various positions at Surgutgazprom, Noyabrskgazdobycha and Nadymgazprom. Between 2007 and 2015 he was Director General of Gazprom Podzemremont Urengoy.
For his long service Vladimir Dmitruk was awarded certificates of merit from the Governor of the Yamal-Nenets Autonomous Area, the Mayor of Novy Urengoy and the Legislative Assembly of the Yamal-Nenets Autonomous Area.