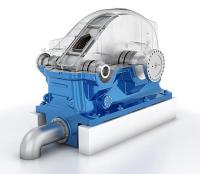 Voith will debut the new BHS AeroMaXX technology for turbo parallel-shaft gear units at Power-Gen Europe 2016 (booth 3HD128). The inner housing and optimised sleeve bearings reduce power loss and oil consumption by 30% or more. The solution has a passive-mechanical character and does not require any additional accessories. Operators profit from identical design standards, unchanged overall operating behaviour and maximum reliability. Voith emphasises this with a warranty period of 36 months – in both new systems and retrofits. The technology is manufacturer-independent and immediately available.
Due to the high pitch line velocities of up to 200 metres/second, oil swirling and oil squeezing in the gear mesh account for a substantial part of the power loss of high-speed turbo gear units. The BHS AeroMaXX technology reduces these losses by separating lubrication and cooling. An inner housing in the direct vicinity of the gear set absorbs heat and dissipates it into the bottom area on the external surface on the inner housing via cooling oil. This means that a substantially smaller volume of oil is required for the actual lubrication of the teeth contact surfaces and the swirling oil/air mixture is minimised.
In addition to the inner housing, the technology also includes new BHS EcoMax sleeve bearings on the pinion shaft. The hydrodynamic bearings are optimised specifically for the application and guarantee high energy efficiency with significant oil savings.
By combining the inner housing and the specifically designed bearings, BHS AeroMaXX increases the gear unit efficiency by up to 0.5%. At the same time, the oil consumption is reduced by at least 30%. Since only passive mechanical elements are used, the improvements can be achieved without any additional accessories or components such as pumps or seals. The overall operating behaviour, design standards and dimensions of the gear unit also are not affected by this technology. Related costs for a system operator are amortised by the energy savings alone within 1 to 2 years.