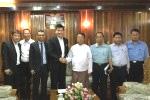 VPower Group has signed two power generation contract arrangements with Myanmar's state electricity enterprise, for the Economic Zone of Kyauk Phyu and key industrial city Myingyan, both for over the period of five years.
In Kyauk Phyu , VPower will be doubling the power generation output to 90MW to be injected directly to the existing 230kV transmission network. The current 45MW power plant won the recognition of being among Fast-track Power Plant of Year in August. Just like the award-winning installation, it is set to be brought online in 120 days.
The 133MW power installation in Myingyan will power the state-owned steel mill. Securing a reliable supply of electricity is key to operating the electric arc furnace economically. This latest power plant will take into account the voltage fluctuations and a first technical challenge of its kind for VPower. It will also connect directly to the existing 230kV lines located close to the mill.