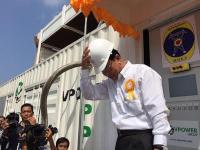 VPower's latest power plant was officially launched at an opening ceremony on site, near the special economic zone of Kyauk Phyu, led by Chief Minister of Rakhine State, U Maung Maung Ohn and other state officials.
The interim plant station features 32 gas generator sets of the latest generation made by MTU Onsite Energy and the Build-Own-Operate (BOO) project took just under 4 months to complete - from greenfield to total turnkey power solution.
VPower won the contract to support Myanmar's existing generating capacity with 45MW of power and signed the power purchase agreement with state owned Myanmar Electric Power Enterprise (MEPE) back in January.