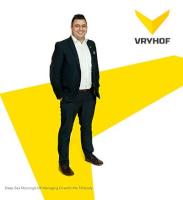 Vryhof, a trusted partner to many of the offshore industry's leading companies, is expanding its global footprint with its companies, Deep Sea Mooring (DSM) opening a new office in Aberdeen, and Vryhof Anchors appointing Singapore-based Franklin Offshore as its exclusive representative for selling Vryhof solutions in a number of Asia Pacific countries.
"In an industry that has seen considerable negativity over the past year, this is a real statement of intent by Vryhof on our ambitions to expand our products and services in new markets and meet increased demand," says Wolfgang Wandl, CEO of Vryhof.
Wandl continues, "With more rigs coming out of being stacked and into operation again and with the continued growth in offshore renewables, our new Aberdeen office and partnership with Franklin will ensure that we are ideally placed to grow our businesses worldwide and maintain our leadership in innovative and value-added mooring and anchoring solutions."
DSM's Aberdeen office, which is headed by UK Managing Director Mo Tafazzoly, has been established in response to growing demand for Vryhof products and solutions across the North Sea and will significantly boost the company's European operations.
Tafazzoly has more than 16 years' experience in naval architecture and ocean engineering in the marine, oil and gas industry with an enviable track record in providing technical support to projects and as a technical authority. For the past seven years, prior to joining Vryhof, Mo worked as the Group Engineering Manager of Rigmar Group where he was responsible for establishing and growing the Group's technical department. Mo holds an MSc and BSc in Naval Architecture and is an active member of the UK's Royal Institution of Naval Architects.
"From our UK Aberdeen office, DSM will continue to provide the UK North Sea market and our clients with our full suite of tailored mooring solutions and equipment portfolio," says Tafazzoly, Managing Director of DSM UK.
Tafazzoly continues, "This includes the provision of first class engineering, marine and inspection services and personnel, and the rental and sales of high quality, state of the art mooring equipment and anchors. The launch of the Aberdeen office will also facilitate the management and servicing of our offshore operations across North Africa, West Africa, the Mediterranean, the Caspian and the Eastern Canada regions. We look forward to exciting times ahead and are confident that the Aberdeen office launch will be the start and basis for achieving even greater milestones."
Franklin Offshore Group is an integrated provider of quality rigging and mooring equipment and services primarily to the offshore oil and gas industry. Under the terms of the agreement with Vryhof Anchors, Franklin will market and resell Vryhof's anchoring and mooring equipment in Brunei, Cambodia, Indonesia, Malaysia, Myanmar, Singapore, Thailand and Vietnam. Vryhof Anchors will provide engineering support to Franklin as and when required.
Edmund Chan, COO and Director of Franklin Offshore, says, "Franklin Offshore is proud to have entered into an alliance partnership with Vryhof Anchors which is known for its proven, high quality products and engineering support. Vryhof Anchors products are a good complement to Franklin Offshore's suite of mooring products and enhance our ability to provide integrated and total mooring solutions. We are confident that the combined wealth of experience and expertise resulting from the partnership will position us well to add more value to our customers."