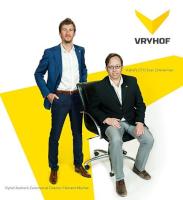 Vryhof, a trusted partner to many of the offshore industry's operators that delivers innovative and customer-focused anchoring and mooring solutions, has made two senior appointments – Evan Zimmerman as Vryhof's new Vice President and Chief Technology Officer and Clément Mochet as new Commercial Director for Vryhof's business unit, Vryhof Anchors.
Based in Houston, Evan has been tasked with pushing continuous improvement within Vryhof's technology, management systems and engineering capabilities. In particular, he will support Vryhof in strengthening its mooring equipment technologies, with a focus on new connectors, tools, torque management systems, risk assessment software, and asset management systems.
Based in the Netherlands and as Commercial Director, Clément's responsibilities will be to grow the Vryhof Anchors business worldwide as well as serve existing clients. He brings an extended network of potential partners and customers for the floating production and floating renewables sectors and will focus on getting his team ready for the exciting challenges that lie ahead. Wolfgang Wandl, CEO of Vryhof, continues, "We believe that Clément and Evan represent firstclass appointments and are testament to Vryhof's ambitions from both a technical and commercial perspective. We look forward to working with both as we continue to grow our business and set the industry standards in offshore mooring and anchoring over the coming years."
Evan was previously Managing Director of Delmar Systems PTY Ltd. between 2011 and 2014, where he spearheaded the company's international expansion and, in addition to this, was Technical Director for the company worldwide. Over the last two years, he has also been an internal Subject Matter Expert for Woodside Energy Ltd in Perth and Executive Director of the Offshore Operators Committee in the US, representing 47 operating companies and 80 service companies. Evan is also a contributing author of the APPEA MMATW guidelines, the American Petroleum Institute (API) 2SK, API 2I and API 2SM guidelines for mooring and floating structures and has a Doctorate in Jurisprudence from the Houston College of Law and a Bachelor of Science (BSc) in Ocean Engineering from Texas A&M University.
For the past 6 years prior to joining Vryhof Anchors, Clément worked as Sales Director and Export Manager at Le Béon Manufacturing, a specialist manufacturer of forged alloy steel components in the offshore oil and gas, marine and renewables. Clément also built and managed the consortium in charge of the supply of mooring for the first floating wind turbine in France and was part of the editing committee for the API's 2SK / 2F updated specifications on mooring chains and connectors. Clement holds an MSc in Mechanical Engineering from The National Institute of Applied Sciences (INSA) of Lyon in France and from the Tampere University of Technology (TUT) in Finland.