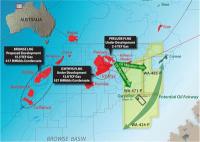 IPB Petroleum (IPB) has entered the Secondary Term of its WA-424-P exploration permit as Operator with a 100% working Interest. The company applied and has received approval from the Joint Authority for a variation of the permit's Secondary Term work programme ( Permit years 4 to 6 inclusive).
The revised work programme includes seismic reprocessing and inversion analysis within the first year (Permit Year 4), with an exploration well to be drilled in third year of the Secondary Term (Permit Year 6).
Entry into each year, and therefore obligation to complete each year's work programme is optional only on the permit holder(s) during a permit's Secondary Term.