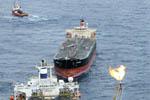 AWE Limited, the Operator of Permits L1/L2 in the Perth Basin, Western Australia, advises that the Waitsia-2 appraisal well reached Total Depth (TD) of 3,530m Measured Depth below Rotary Table (MDRT) at 04:30 hours (4:30am) AWST on 26 July 2015 and preparations are now underway to commence a wireline logging program.
All target formations were successfully intersected. Total depth was achieved 16m into the Nangetty Formation, which was intersected at 3,514m MDRT.
Three sections of core were cut in the primary target, the Kingia and High Cliff Sandstones. Core #1 was cut from 3,154m to 3,209m; Core #2 was cut from 3,209m to 3,264m; and Core #3 was cut from 3,264m to 3,327m MDRT. All cores will be sent for analysis.
Elevated gas shows were observed in the primary target Kingia and High Cliff Sandstones as well as the Carynginia Shale and Irwin River Coal Measures.