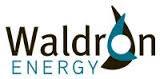 Waldron Energy Corporation announce initial results from the successful drill and completion of its first Ferrybank Falher well. The Corporation is also pleased to announce its financial and operational results for the three and six months ended June 30, 2014.
Ferrybank Falher Drilling Update
The Corporation is pleased to provide an operational update regarding its 100% working interest in the Waldron Ferrybank 16-14-043-28W4 horizontal Upper Mannville (Falher) well (the "16-14 well"). Throughout July and the first half of August 2014, the 16-14 well was successfully drilled and completed. During the 60 hour post frac clean up, the well's final flow rate was 4.1 mmscf/d with 45% of frac fluids recovered. The well is expected to be placed on continuous production by mid-October 2014. The Corporation is currently in the process of licensing a second well.