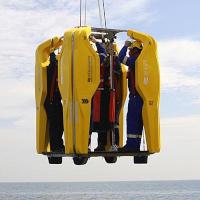 Reflex Marine, a global provider of safe marine access solutions, launches its' latest innovation, WAVE-4.
The company's dedication to safety and innovation over the last 20 years' has led to the improvement of safety standards for personnel transfers across the globe. Now Reflex Marine are adding a new device to their range to meet the needs of their diverse client base.
WAVE-4 captures over 20 years of learning, experience and feedback from the industry. This new personnel carrier for standing passengers offers fall prevention, impact protection and has floating and self-righting capabilities.
James Strong, Project Manager, says, "Every year millions of passengers are safely transferred using Reflex Marine carriers. We are committed to increasing this number and ensuring all workers are transferred safely and efficiently whilst working offshore. The company's aim, with WAVE-4, is to provide the highest level of protection and performance for any standing transfer carrier on the market."
"With extensive passenger protection and the smallest footprint of any rigid transfer carrier on the market, WAVE-4 offers clients a convenient, cost-efficient and safe way to move their crew," adds Strong.