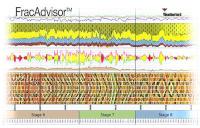 Weatherford International introduced its new FracAdvisorTM service offering for the oil and gas industry. FracAdvisorTM provides near real-time guidance to operators for optimized completion designs, reduced operational risks, and increased efficiency of hydraulic fracturing operations.
Well production variances and operational time constraints demand an integrated solution based on the reservoir's unique characteristics.
Through FracAdvisorTM, Weatherford provides guidance to operators on how to optimally complete a well by accurately incorporating various reservoir and completion attributes, such as the effect of anisotropy in organic shale reservoirs. FracAdvisorTM incorporates proprietary algorithms that weight specific attributes according to the specific play, well, or lateral.