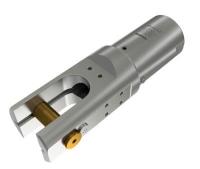 Webtool has developed an emergency disconnection tool (EDT) for subsea intervention systems. The Webtool EDT enables rapid cutting of umbilical multiple fluid transfer jumpers, electrical lines and tension wire, in the event the DP surface vessel drifts off-station.
As an integral part of either a workover tool or dedicated emergency disconnect package, Webtool EDT guillotine cutter is a simpler and quicker emergency disconnection than more complex multi-line stabplate systems. It offers considerable weight savings compared with other emergency disconnect systems, and is easily retrofit to intervention systems.
Within a well intervention emergency disconnect package, the umbilical is connected to a sacrificial hose and cable bundle, and securely positioned in the mouth of the Webtool EDT emergency cutter. This ensures the umbilical is severed in the correct place, within seconds.