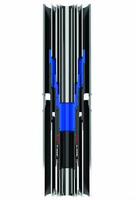 Weir Oil & Gas, an upstream provider of pressure pumping and pressure control equipment and services, has announced the introduction of its WMSS10 Mudline Suspension System for exploratory and developmental wells. This stack-down system eliminates debris traps, improves reliability and enhances efficiency of tieback operations in offshore operations.
Weir's WMSS10 Mudline Suspension System transfers the weight of the well to the seabed. It offers a method of disconnect for all casing strings, allowing the temporary abandonment of a well in a minimum amount of time and without having to cut casings. Casing strings can be easily reconnected for surface completion on a production platform wellhead deck.
The WMSS10 Mudline Suspension System features a series of hangers with landing and load rings located on load shoulders to transfer the weight of each casing string to the conductor and the seabed while drilling from a jack-up.
"The introduction of our WMSS10 Mudline Suspension System enhances our product offering and enables us to offer a complete wellhead related equipment solution," says Gordon Cameron, President of Weir Oil & Gas Pressure Control for the Eastern Hemisphere.
The WMSS10 is designed for high-capacity casing hang-off loads and high pressure STD and H2S wells to allow operators to run casings to deeper depths. The stack-down configuration provides a washout point below the previous sealing area.
Metal-to-metal sealing protects against high pressures and corrosive fluids while separate running and tieback threads offer protection during drilling and temporary well abandonment. Generous flow-by areas maximise circulation during the cementation process. Additionally, generous washout ports in the running tool eliminate cement contamination. Long lead-in allows for self-aligned easy stabbing.
The standard casing configuration is 30 x 20 x 13-3/8 x 9-5/8 inches with 10,000 psi working pressure for STD and H2S application.